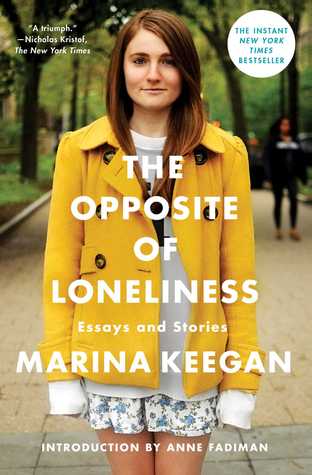 Published by Scribner in 2014.
Genre: Short stories and non-fiction essays
Rating: 4/5 stars
Description: "An affecting and hope-filled posthumous collection of essays and stories from the talented young Yale graduate whose title essay captured the world's attention in 2012 and turned her into an icon for her generation.
Marina Keegan's star was on the rise when she graduated magna cum laude from Yale in May 2012. She had a play that was to be produced at the New York International Fringe Festival and a job waiting for her at the New Yorker. Tragically, five days after graduation, Marina died in a car crash.
Even though she was just twenty-two when she died, Marina left behind a rich, expansive trove of prose that, like her title essay, captures the hope, uncertainty, and possibility of her generation. The Opposite of Loneliness is an assemblage of Marina's essays and stories that, like The Last Lecture, articulates the universal struggle that all of us face as we figure out what we aspire to be and how we can harness our talents to make an impact on the world." (From Goodreads)
Summary: I quite adored this book and it quickly earned a spot on my favorites shelf. As a college student, I felt like Keegan perfectly summed up so many feelings and emotions similar to my own. I want to hand this book out to people and say, "Read this if you want to understand me."
Why I picked it up: I saw this one floating around booklr a lot when it first came out and was instantly drawn in by the cover. I looked at the girl with the pretty hair and the bright yellow jacket in a place that looked like New York and thought, "I want to be like her." And so I looked into the book and realized it was just up my alley and immediately put it on my TBR. I spotted the bright yellow jacket at a second-hand bookstore toward the end of the semester and purchased it immediately.
Writing a review for a book like this is a little tough because it's split between Keegan's short stories and her essays. Overall, I really enjoyed Keegan's writing in both sections. I anticipated it to consist mostly of her essays, which I was looking most forward to as it's right up my alley as my favorite to write. However, I was pleasantly surprised by the fiction section, which took up a little over the first half of the book.
As far as the fiction section, Keegan's stories initially struck me as much deeper than I anticipated. Maybe I was expecting something similar to what I see in my creative writing classes, which are usually good but rarely great. It's clear that she had a fantastic talent of which I was quite envious while reading. After finishing, I found myself contemplating a few of them as I did the dishes or took a car ride or lay in bed at night. I know some of them will definitely stay with me, and that's one of the only things I ask of a good story. I find it especially impressive when writers can make you feel so much for characters in the span of a short story with so little time between the reader and the characters. My favorites were Challenger Deep, The Emerald City, and Hail, Full of Grace.
I found many if not all of the essay pieces in the non-fiction section of this book inspiring. Again, they left a mark on me for sure. Her writing is so simple and beautiful. This section left me feeling particularly inspired. I don't know if I want to go out and fight for social issues or write a novel or call all of my friends to go on a road trip, but I know I left feeling something more than I did when I picked up the book, and I think that's something so special. My favorites in this section were Stability in Motion, Why We Care about Whales, and Song for the Special.
Overall, I think this is a great, fast read for almost anyone, especially college students. This is the kind of book I'll pick up on days when I'm sad and days when I'm lost and days when I feel like giving up. I'll easily reread this book a dozen times. I loved the way Keegan wrote about life. I want to be able to see the world through the lens she saw it through. Through her writing, she seemed very wise, but also humble and funny, like she'd be a wonderful friend. I'm sure she was.
Some quotes I enjoyed:
"But let us get one thing straight: the best years of our lives are not behind us. They're part of us and they are set for repetition as we grow up and move to New York and away from New York and wish we did or didn't live in New York."
"We're so young. We're so young. We're twenty-two years old. We have so much time."
"Stranded humans don't roll in with the tide – they hide in the corners and the concrete houses and the plains of exotic countries we've never heard of, dying of diseases we can't pronounce."
Buy the book: Amazon, Book Depository, Thriftbooks
Read the title essay (you'll thank yourself when you're finished).
Find me on Twitter, Tumblr, and Instagram, Goodreads